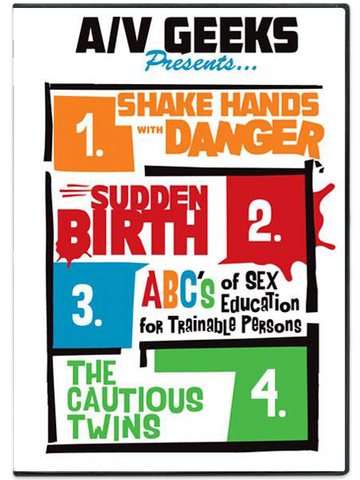 Sold Out
A/V Geeks: Special FFF Edition DVD
$14.00
This product is unavailable
THIS ITEM IS OUT OF STOCK, BUT IS AVAILABLE AS A DIGITAL DOWNLOAD.
Found Footage Festival and Skip Elsheimer of A/V Geeks have teamed up to produce a special-edition DVD of sex, danger and birth. We featured snippets of these classroom training films on the FFF 2012 tour. Now, you can own them in their entirety. Get ready to laugh...and scream!
FEATURING:
• Shake Hands With Danger (1980) — A safety film of simulated accidents for heavy equipment operators. Featuring a memorable title song by Jim Stringer. 23 minutes
• Sudden Birth (1966) — Ever wished you had what it took to deliver a baby in the backseat of a car? Wonder no more. Get ready for a real live birth! 22 minutes.
• ABC's Of Sex Education For Trainable Persons (1975) — A Seventies educational film intended to teach caregivers of mentally disabled young adults about sex and sexuality in a frank and factual manner. 22 minutes.
• The Cautious Twins (1959) — Follow a day in the lives of twin kids who live in a small town teeming with ubiquitous, well-groomed pedophiles. 6 minutes.
Format: DVD; region free
Length: 73 minutes