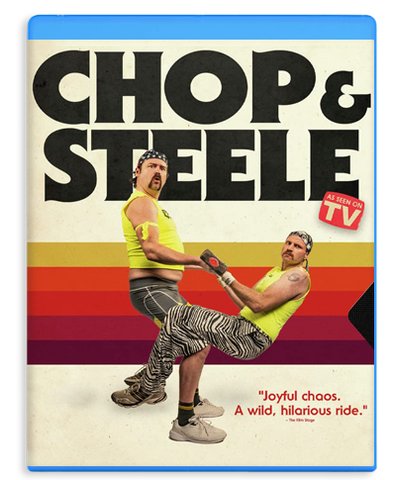 Chop & Steele Blu-ray - Autographed
$26.00
Limited Edition! This Chop & Steele Blu-ray comes autographed by Chop (Joe) and Steele (Nick)!
"This doc is phenomenal" —Paul Rudd
"Instant comedy legend status" —Jon Glaser
"A really wonderful documentary" —Eugene Mirman

When childhood friends Nick Prueher and Joe Pickett start booking their gag strongman routine on unsuspecting morning news shows, their pranks end up going viral, landing them in federal court with a vengeful media conglomerate.

For the first time, the Tribeca Film Festival favorite "Chop & Steele" comes to blu-ray, with an exclusive audio commentary by Joe, Nick, and directors Ben Steinbauer and Berndt Mader. 
Starring Joe Pickett, Nick Prueher, David Cross, Kurt Braunohler, Reggie Watts, Bobcat Goldthwait, Albertina Rizzo, and more.
Running time: 1h 21m
Format: Blu-ray