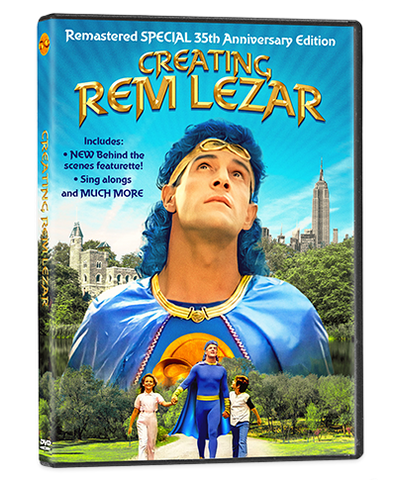 Creating Rem Lezar DVD
$16.00
For the first time since 1987, the cult classic kids musical is coming home to home video, this time in glorious high definition for its 35th anniversary. Previously only available on rare VHS tapes, this wonderfully strange film has been remastered in high definition and packed with special features for a Blu-ray, DVD, VHS, and digital release exclusively through the FFF store. The disc features a revelatory 30-minute documentary on the making of the underground classic, with interviews from star Jack Mulcahy (The Brothers McMullen), director Scott Zakarin, and composer Mark Mulé. Plus, sing-alongs, a Rem Lezar meme gallery, and more!
"We first saw Creating Rem Lezar on VHS in a stranger's living room in Denver at about 3 in the morning—ideal viewing conditions for this wonderfully strange artifact from the 80s. We thought it was religious at first—either that or Canadian—because something just seemed off. But it turns out it's neither! It's just a wholly original kids movie with catchy songs that are still in our heads years later." – Nick Prueher, Found Footage Festival
Creating Rem Lezar tells the story of Zack and Ashlee, two kids who discover the meaning of friendship when their imaginary blue-haired superhero, Rem Lezar, comes to life!
"Due to popular demand, I dug out the original master of Creating Rem Lezar from storage. Most Rem fans have only seen the movie from copies of copies of the VHS released 35 years ago. For the first time ever, the movie is being released how it was originally intended, and then some. The Making of Creating Rem Lezar featurette, is a journey back in time, to the set of the movie as we filmed." – Director Scott Zakarin 

"It's Creating Rem Lezar's message of kindness and empathy that endures and resonates so strongly. And I'm just so touched that people can feel that, despite dyeing my hair blue and sporting solid gold Converse All-Stars." – Jack Mulcahy (Rem Lezar)