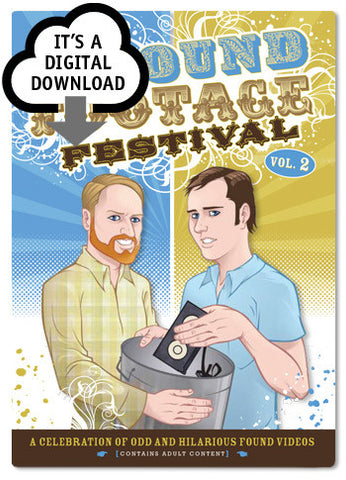 Found Footage Festival: Volume 2 - Digital Download
$8.00
DIGITAL DOWNLOAD!

Join curators Joe and Nick on a guided tour through their ever-growing collection of odd, hilarious, and profoundly stupid videos. This edition of the Found Footage Festival features an entertaining lineup of instructional and educational videos, public access footage, and home movies found at thrift stores and rescued from dumpsters across the country. Recorded live at The Heights Theater in Minnesota, Found Footage Festival: Volume 2 is an unabashed celebration of the footage that time forgot.
After purchasing this digital download, an email will be sent to you with a link to begin downloading. You will be able to download this DVD three (3) times. File size is approx 750MB.
FEATURING:
Stairway to Stardom • Rap Montage • Celebrities Who Teach • Exercise Video Montage 3 • E-Z Catch Chicken Harvester • Harvey Sid Fisher • How to Seduce Women Through Hypnosis • Swayze Dancing • Angry RV Salesman Jack Rebney • and more!
Format: digital mp4. Length: 90 minutes.
Please note that digital downloads must be downloaded to a laptop or desktop computer. You cannot download directly to your phone or smart TV.