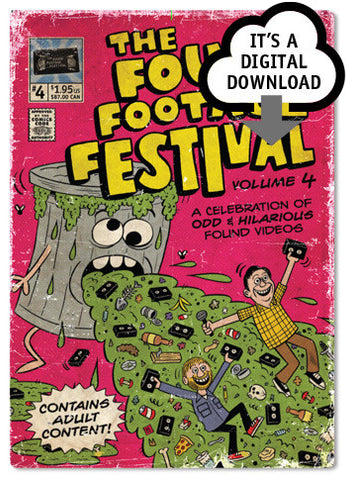 Found Footage Festival: Volume 4 - Digital Download
$9.00
DIGITAL DOWNLOAD!

Hosts Joe Pickett and Nick Prueher are back with a fourth installment of VHS relics they've salvaged from thrift stores, garage sales and garbage cans across the country. Found Footage Festival: Volume 4 is chock full of furniture salesmen, rapping celebrities, bachelors in bad sweaters, anthropomorphic Rubik's Cubes, blowgun enthusiasts and piano-playing rabbits. So sit back, adjust the tracking on your VCR, and enjoy the show. Recorded live at The Loft Cinema in Tucson, Arizona.
FEATURING:
Worst Saturday Morning Cartoons • Video Dating • VCR Games • Celebrity Bullshit • After Dark • Bargain Bernie • Knives & Blowguns • Andrew's Grab Bag • Venus II • Exercise Video Montage 5 • Video Cover Slideshow • Bonus Footage • and much more!
After purchasing this digital download, an email will be sent to you with a link to begin downloading. You will be able to download this DVD three (3) times. File size is approx 750MB.
Format: digital mp4. Length: 85 minutes
Please note that digital downloads must be downloaded to a laptop or desktop computer. You cannot download directly to your phone or smart TV.