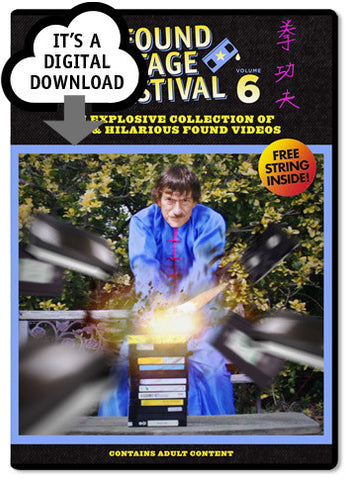 Found Footage Festival: Volume 6 - Digital Download
$9.00
DIGITAL DOWNLOAD!

In our most unsettling compilation to date, we present our latest and greatest array of VHS wonders. Didgeridoos will be blown, sponges will be rainbowed, opossums will be massaged, and senior citizens will be fed salads. It's all here in a loving tribute to the golden age of VHS. Recorded live at the Music Box Theatre in Chicago. 
FEATURING:
Magical Rainbow Sponge • Ferret Fun • Get Rich Quick • Dancing With Frank Pacholski • VHS Cover Slideshow • Exercise Video Montage • Stranger Danger  Kidz Stuff Too • Flower Power • Hand Made Love • Music Lessons • Wound Rounds Live • Kenny "K-Strass" Strasser Yo-Yo Extravaganza • Much More!
After purchasing this digital download, an email will be sent to you with a link to begin downloading. You will be able to download this DVD three (3) times. 
Format: digital mp4. File size: approx 700MB. Length: 85 minutes.
Please note that digital downloads must be downloaded to a laptop or desktop computer. You cannot download directly to your phone or smart TV.