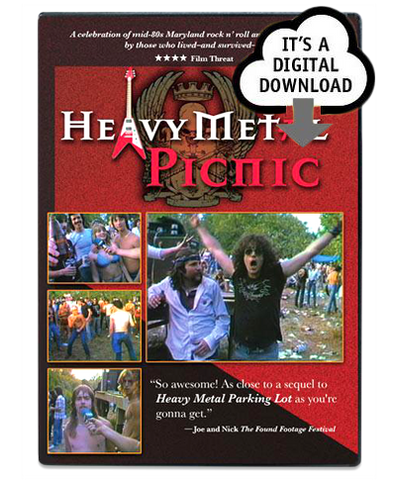 Heavy Metal Picnic - Digital Download
$5.00
DIGITAL DOWNLOAD!
At long last, from the filmmakers of the classic dubbed-VHS sensation Heavy Metal Parking Lot comes Heavy Metal Picnic. It's 1985 at the Full Moon Jamboree, a weekend field party bacchanal that took place at "the Farm," home to a cast of colorful characters who lived and partied alongside unamused neighbors in Maryland. An affair so raucous that it made the evening news, the Full Moon Jamboree was the farm party to end all farm parties, and much of it was recorded using a home video camera and a stolen CBS News microphone swiped from the Reagan Inauguration earlier that year. "Ronald Reagan, man..."

Now, 25 years later, revisit the scene and meet the people behind the party, as well as the musicians who performed there, including mid-Atlantic doom metal icons Asylum. 
After purchasing this digital download, an email will be sent to you with a link to begin downloading. You will be able to download this DVD three (3) times. File size is approximately 1GB. 
Please note that digital downloads must be downloaded to a laptop or desktop computer. You cannot download directly to your phone or smart TV. 
Format: digital mp4. Length: 65 minutes.