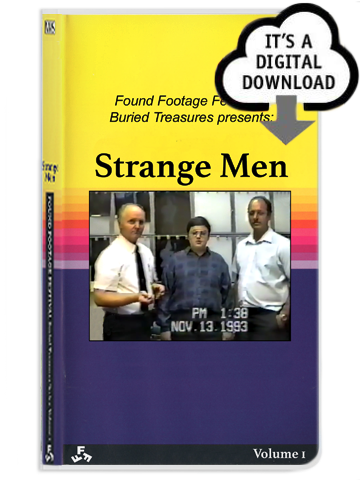 Strange Men - Digital Download
$8.00
Joe and Nick are proud to present a new series called Buried Treasures, a guided tour through the VHS finds they've deemed too weird to include in their live show along with hand-picked deep cuts from the Found Footage Festival archives. This first volume, Strange Men, includes dozens of video clips, each with a strange man doing a strange thing. One man jumps around his living room. Another man interviews cheerleaders. There's even a man with a ponytail! There are so many strange men crammed in this collection, you'll think you're at an O.T.B.
File size: Approximately 700mb. Please be sure you have a strong, reliable wi-fi or ethernet connection when downloading to your computer or laptop. 
Please note that digital downloads must be downloaded to a laptop or desktop computer. You cannot download directly to your phone or smart TV. 
Strange Men is also available on VHS.