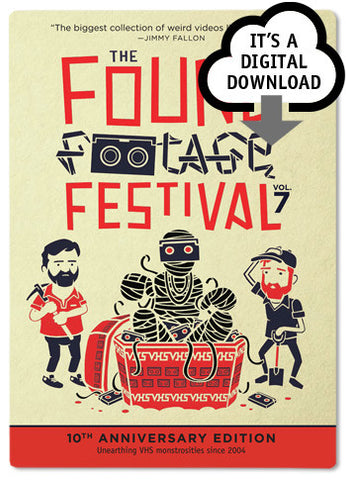 Found Footage Festival: Volume 7 - Digital Download
$9.00
DIGITAL DOWNLOAD

This special 10th anniversary edition of the Found Footage Festival finds curators Joe Pickett and Nick Prueher in a nostalgic mood, delving deeper--perhaps too deep--into some of their favorite VHS finds from over years. But Volume 7 is also jam packed with newly unearthed treasures, featuring singing rabbis, petulant news anchors, coughing snake handlers, bodybuilding clowns, and two body parts never before seen in the festival! It's a celebration of a decade of Found. Record over and you'll die! Taped live at The Grey Eagle in Asheville, North Carolina.
FEATURING:
Special Delivery • Exercise Video Montage • Songs That Will Get Stuck In Your Head Forever • How To Have Cybersex On The Internet • Petpourri 2 • Stranger Danger • Uncle Moishy • Candy Pants • Totally Tulip • Beyond Vaudeville • Fido's Wedding • Good Times Club • Red Lightning • Super Chino • Snake by Keith McMahon • The Thomas Odatey Explosion • KOIN 6 • VHS Cover Slideshow • The Tom Lewandowski Show
After purchasing this digital download, an email will be sent to you with a link to begin downloading. You will be able to download this DVD three (3) times. File size is approx 1GB. 
Please note that digital downloads must be downloaded to a laptop or desktop computer. You cannot download directly to your phone or smart TV. 
Format: digital mp4. Length: 90 minutes